Westwoodhill Evangelical Church opened its doors to our community in May 1978. A small number of pioneer members had been commended in September 1973 by the Church Leaders from Threshold Church, in the Village area of East Kilbride, to establish a new Church in the Westwood area of the Town.
The new Church initially met in South Park Primary School & the 'old' Murray Community Hall while the new church building was constructed. The members themselves carried out much of the project management and physical work.
Membership numbers grew steadily during the early years and contacts with the Westwood Community strengthened. The church catered too for all ages from Toddlers Groups, young peoples activities all the way through the age range.
One of many very interesting visitors to the Church was Jim Irwin, one of the American astronauts who landed, walked and in Jim's case, drove a buggy on the surface of the Moon. The Church still displays his presentation photograph of him on the Moon with the inscription, 'Jesus walking on the Earth was more important than man walking on the Moon'.
Westwoodhill Evangelical Church has been from its inception a place where all age groups are welcome, valued and respected. We aim to maintain and develop our community connections in ways, which are relevant & appropriate to our changing culture while holding dear to our foundational Christian beliefs.
The church build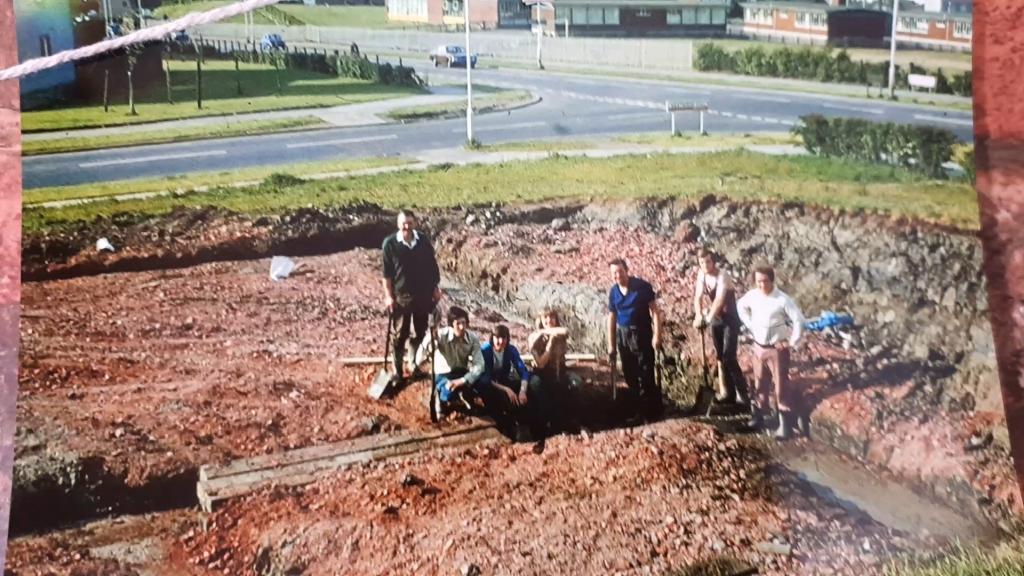 40th anniversary celebrations 2018
In 2018 the church had a celebration in Ballerup Hall. We enjoyed a meal together and sang some of the songs which would have been sung 40 years previously – led by Martin leckie whose parents were founding members. We enjoyed meeting up with founding elder Charlie Gibb who gave a short talk and led us in prayer. The ladies who cut the cake were also founding members.